We are thrilled to announce an exciting new service in partnership with DC Courier Services, providing efficient and reliable laboratory specimen delivery from Washington DC to all locations on the East Coast on the same day! 🎉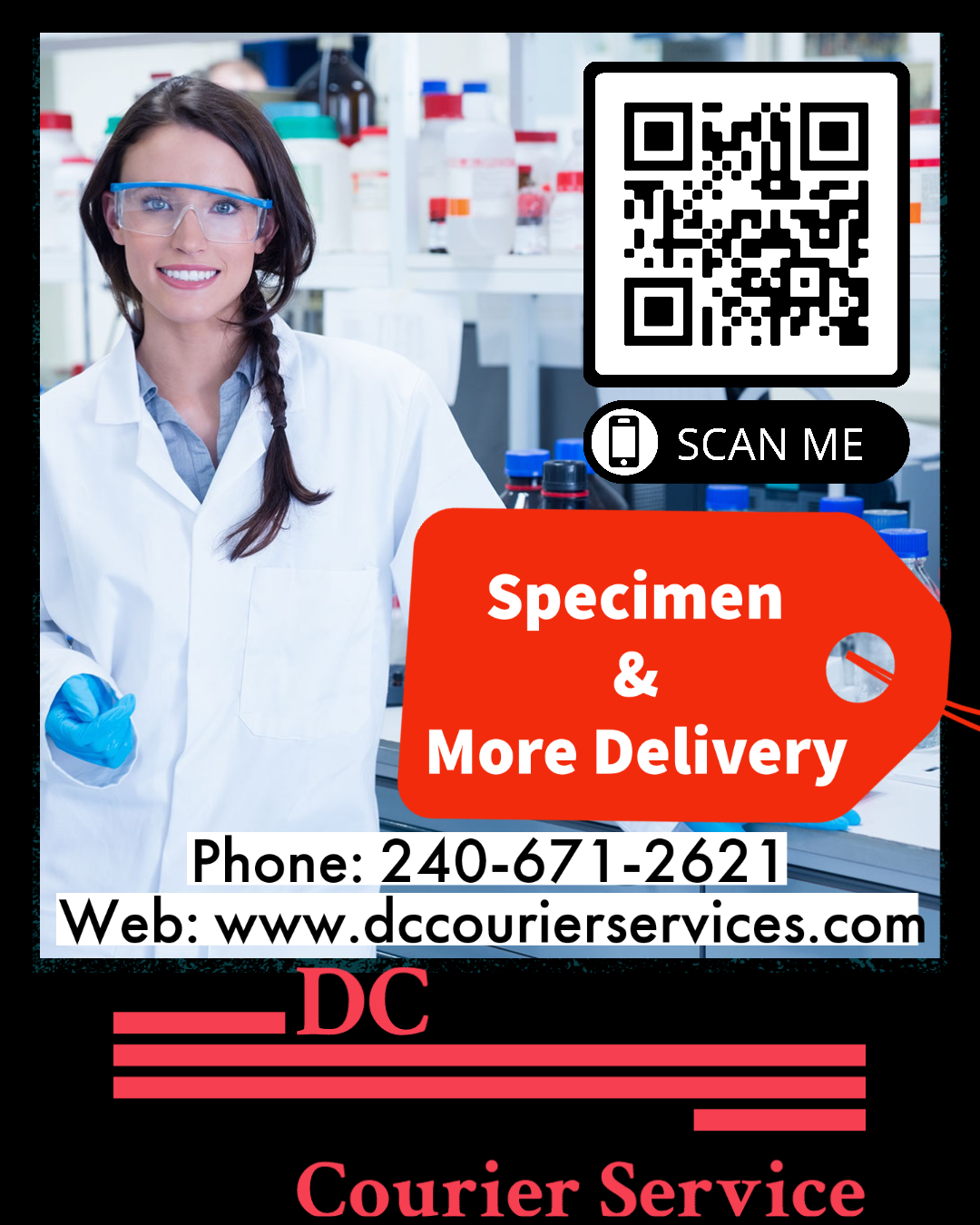 🔬 Cutting-Edge Laboratory Specimen Delivery Services 🚚
At DC Courier Services, we understand the critical importance of time-sensitive laboratory specimens that need to be transported swiftly and securely. Our state-of-the-art delivery solutions are designed to cater to the specific needs of healthcare facilities, research institutions, and diagnostic laboratories across the East Coast.

🌐 Coverage Area 🏙️
With our expanded reach, we now offer same-day laboratory specimen delivery to a wide range of destinations on the East Coast. Whether it's major cities, suburban areas, or remote locations, you can count on us to get your specimens where they need to be, right on time.

⏰ Swift and Reliable Service 💨
Speed and reliability are at the core of our services. We have strategically established a comprehensive network that optimizes routes and ensures timely deliveries. Our team of highly trained professionals is dedicated to handling your precious specimens with utmost care and efficiency.

📦 Secure Packaging and Handling 🛡️
Rest assured, your laboratory specimens are in safe hands. We adhere to the highest industry standards for packaging and handling to prevent any damage or contamination during transit. Our cutting-edge technology also allows for real-time tracking, so you can monitor the progress of your delivery every step of the way.

🌟 Why Choose DC COURIER SERVICES? 🌟
✅ Same-day delivery: Expedite the transportation process and receive results faster.
✅ Customized solutions: We tailor our services to meet your unique requirements.
✅ 24/7 customer support: Our team is always ready to assist you, day or night.
✅ Competitive pricing: Quality service without breaking your budget.
✅ Eco-friendly initiatives: We strive to minimize our carbon footprint.

📞 Contact Us Today!
📞Don't let distance delay your laboratory results any longer! Experience the convenience and speed of our same-day laboratory specimen delivery service from Washington DC to any destination on the East Coast.

📍 DC Courier Services
📧 Email: info@dccourierservices.com
📞 Phone: (240) 671-2621
🌐 Website: www.dccourierservices.com
Partner with us for a seamless and efficient laboratory specimen delivery experience. Let us handle the logistics while you focus on what matters most – saving lives and making breakthrough discoveries! 🧪🔬🌟
#LaboratorySpecimenDelivery #SameDayDelivery #EastCoastLogistics #HealthcareSolutions #MedicalInnovations