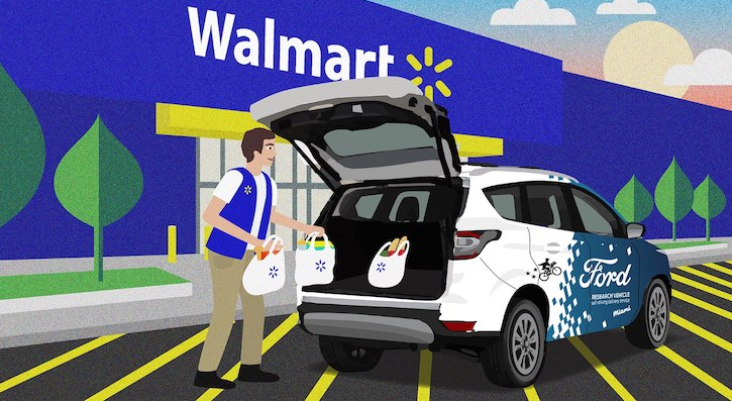 Source: Ford
Walmart is looking to leapfrog Amazon, using Ford autonomous cars for home delivery of online orders.
When you think of cutting edge technology colliding with retail, Amazon (NASDAQ:AMZN) probably comes to mind. From cashier-less stores to experiments with drone delivery, Amazon is always pushing the boundaries. But a new partnership that was just announced puts Walmart (NYSE:WMT) in the futuristic tech spotlight. The company announced that it is teaming up with Ford (NYSE:F) for self-driving home delivery.
If successful, the pilot program would give Walmart bragging points over its online retail rival, but by replacing the Post Office and couriers for last mile delivery, it could also cut the company's shipping costs to online customers in half.
Walmart and Ford Partner for Self-Driving Home Delivery
Walmart and Ford announced today that they are joining forces to offer self-driving home delivery of Walmart online orders, using Ford autonomous cars.
According to Walmart, the venture starts with a pilot program in Miami-Dade County. The two companies will be working with delivery service Postmates, which has established relationships with both Walmart and Ford, to deliver fresh groceries.
In a blog post, Ford explains what happens now:
"Over the next couple of months, we'll be working closely with Walmart to understand its operations, identify what goods we can feasibly transport, and pinpoint any issues that may need to be addressed to successfully deliver orders via self-driving vehicles …. We'll be exploring different vehicle configurations or modifications that we could make to meet people's needs – especially to accommodate perishable goods, or scenarios where our vehicles end up making multiple deliveries on a single trip."
Initially, the self-driving home delivery service won't actually be autonomous. Instead, Ford will mock up vehicles to "simulate an autonomous experience" to see how customers interact with the deliveries. There are also technical challenges with Ford's self-driving technology to iron out and as Reuters points out, regulations for issues like liability have yet to be updated to reflect fully autonomous operation.
But with Ford targeting 2021 for commercial production of its autonomous cars, the future could arrive quickly.